Italian Fair Service organizes the webinar presentation of Home Deco Expo, the home furnishings and decorations fair to be held in Miami, centrally located between the main markets of North, Central and South America, from 29 February to 2 March 2024.
The webinar, which will see the participation of important speakers, will be held on Monday 20 November at 5.00 pm. Participation is free.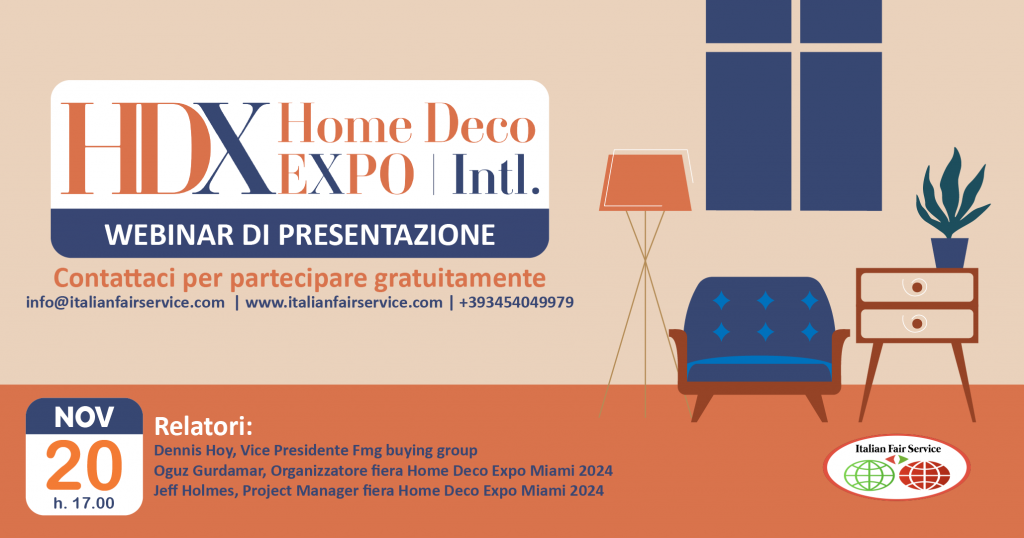 They will be present:
Dennis Hoy, Vice President Fmg buying group:
Furniture Marketing Group (fmg) is the leading home improvement sales group of independent furniture retailers across North America.
Fmg's mission is multifaceted:
*Organise retailers to share information and best practices with other non-participating retailers of similar size and product mix.
*Negotiate exclusive FMG programs with supplier and service partners for the benefit of member members.
*Look for new initiatives to help members save money in operating their businesses.
*Provide educational and networking opportunities to member members
FMG, the largest furniture retail network in the United States, includes more than 100 retail members with nearly 1,000 stores and more than $5 billion in annual sales.
Memberships span 49 states within the United States and also reach into Canada.
Oguz Gurdamar, Organizer Home Deco Expo Miami 2024:
Experience in furniture fairs around the world since 2004 such as the 50th edition of Inegol Furniture Fair in Turkey, the 6th edition of India International Furniture Fair, the 4th edition of Hive Furniture Fair in the United Arab Emirates.
Jeff Holmes, Project Manager Home Deco Expo Miami 2024:
International consultant for the furniture industry helping international companies enter the US market.
Business on every continent with specialization in Asia, Europe and South America
Top expert in the sector with roles as President and CEO of several leading furniture and bedding manufacturers/importers in the United States of America.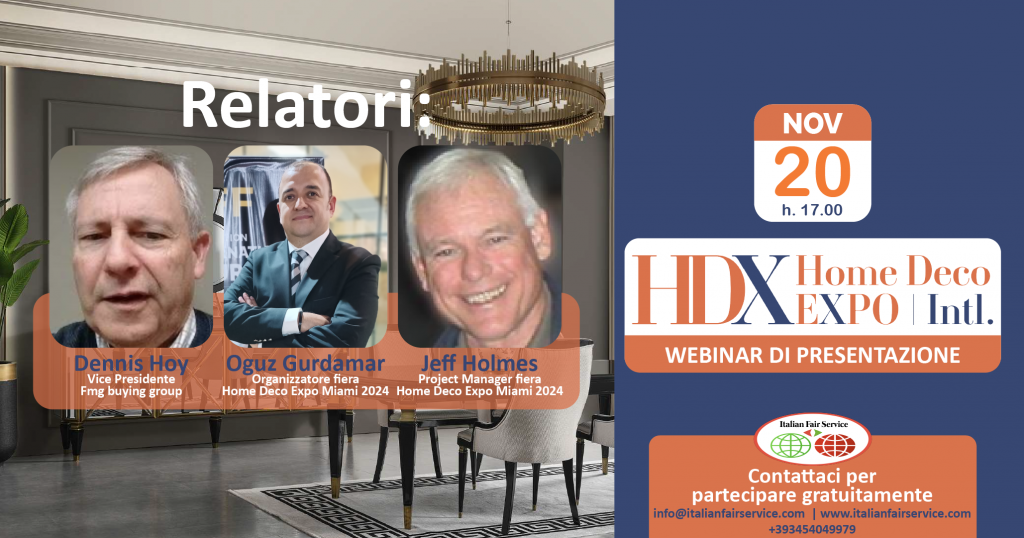 The organizers of the event will present the Home Deco Expo fair in Miami in its entirety and the potential of the American market.
They will inform you about requests from buyers and will provide you with suggestions for best selling in the United States.
Great space will be given to the Question&Answer where you can interact directly with the organizers to clarify all your doubts and satisfy any curiosity.
To participate for free you will need to express your interest by sending an email to: info@italianfairservice.com
The link to the online conference will then be sent to you.